images

1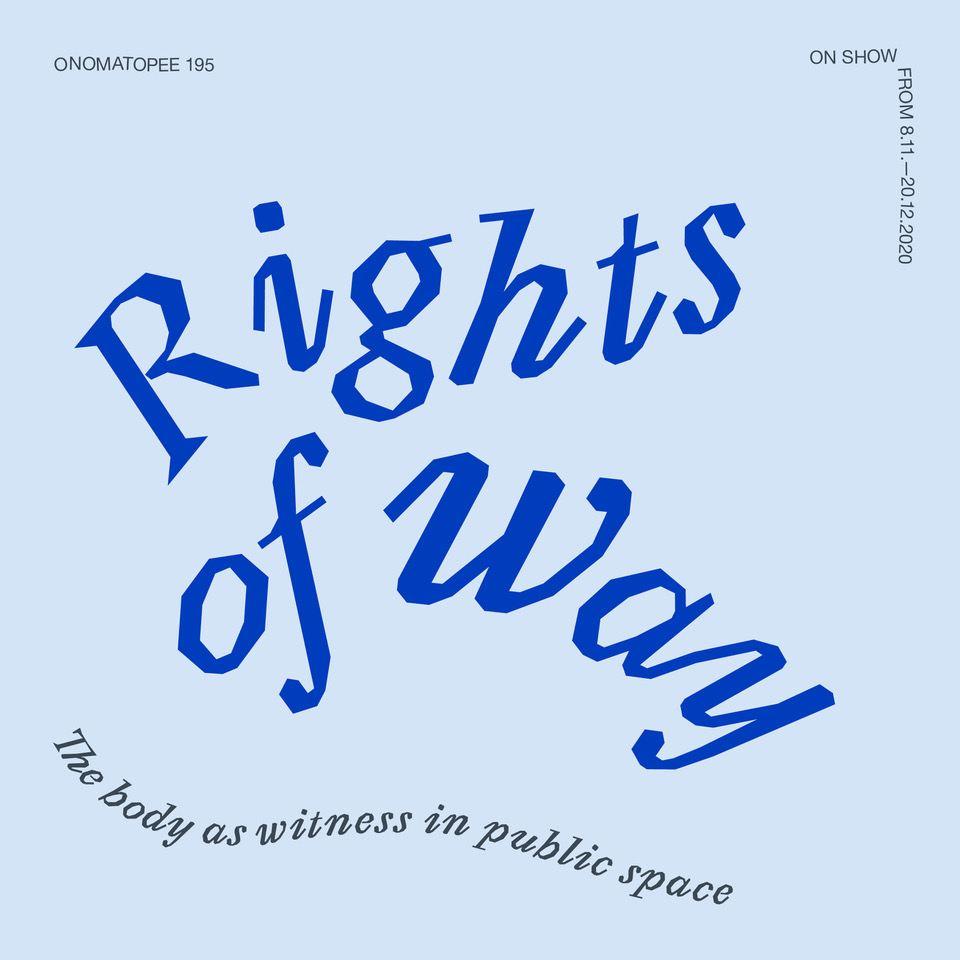 2
3
4
notes


1 L as in Walking associative words and photographs

2 Rights of Way banner

3 snapshots the exhibition at Onomatopee
4 talking about the project on Export Radio, broadcast Match Point #2 Futurism
02. L as in Walking (Rights of Way)
L as in Walking is an experimental photography project about the relationship between queer women and public space realized in the context of the exhibition Rights of Way by art publishers and gallery Onomatopee in Eindhoven, the Netherlands.
Lesbians take to the streets. Two by two, they walk and talk of their experiences in public space. Their steps move in rhythm with their dialogues and amplify their stories. Walking in the very public space they are talking about and actively inhabiting, the interviewer and interviewee perform an activist action. Being both visible and present with their walking bodies in the streets enhances their conversation about lesbians' invisibility in public space as well as throughout public history.
Addressing issues of visibility, solidarity, transphobia and racism, communal living, activism and safety, they share with the audience a broad range of perceptions and analysis about the streets we walk everyday.
Analogue photographs of the places they talk about accompany their words, alongside a series of automatic associations they have made whilst walking through these spaces. The series of words act as a guide to understand both the photographed pictures as well as the inner image of the space that the interviewee bears. In this sense, the private and the public spheres embodied in the words and pictures merge into one another. Their personal stories mingle with universal concerns.
Hearing stories of queer womxn's relationship with the spaces they are surrounded by is an attempt to give back a piece of the universal public space to them and to enhance the importance of actively hearing out their understanding of it. As a minority, lesbians - and womxn more generally - have had to fight hard for their access to public space. Their stories and deep instinctive associations with space offer a rich and subtle peek into their analysis and experience of the streets of Berlin.
The research was supported by IHLIA LGBTI Heritage and Spinnboden Lesbenarchiv und Bibliothek Berlin.
Rights of Way, text by curator Amy Gowen
The movements of our individual and collective bodies through cities and space have long, complex histories. Despite bodily movement often being viewed as an everyday, quotidian act, when considered at length, our ability (or inability) to move through certain places and spaces transforms us from bystanders into activators and witnesses of our cities. This leads us to question what it means to move in this world, and how 'public' our public spaces can be. Taking inspiration from Rebecca Solnit's Wanderlust: A History of Walking, this exhibition seeks out our rights of way.
Inspired by the grass-roots testimony, academic resources and critical inquiry offered by poets, theorists, artists, architects and designers, Rights of Way explores the body as witness in public space through a multi-medium format of soundscape, film, oral testimony, interview and text, to build upon a multitude of experiences and further the intersections between body, imagination and witnessing in consideration for another civil choreography.
Rights of Way, The body as witness in public space group exhibition showcases works from Pauline Agustoni, Elia Castino, The Dazzle Club, Shannon Finnegan, Corinne Heyrman, Paoletta Holst, Alessandro Marchi, Jeannette Petrik and Soeria van den Wijngaard.